Indian military to weaponize world's hottest chili
By WASBIR HUSSAIN, Associated Press Writer Wasbir Hussain,Associated Press Writer – Tue Mar 23, 7:19 am ET
GAUHATI, India – The Indian military has a new weapon against terrorism: the world's hottest chili.
After conducting tests, the military has decided to use the thumb-sized "bhut jolokia," or "ghost chili," to make tear gas-like hand grenades to immobilize suspects, defense officials said Tuesday.
The bhut jolokia was accepted by Guinness World Records in 2007 as the world's spiciest chili. It is grown and eaten in India's northeast for its taste, as a cure for stomach troubles and a way to fight the crippling summer heat.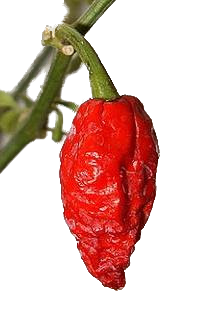 It has more than 1,000,000 Scoville units, the [un]scientific measurement of a chili's spiciness. Classic Tabasco sauce ranges from 2,500 to 5,000 Scoville units, while jalapeno peppers measure anywhere from 2,500 to 8,000.
"The chili grenade has been found fit for use after trials in Indian defense laboratories, a fact confirmed by scientists at the Defense Research and Development Organization," Col. R. Kalia, a defense spokesman in the northeastern state of Assam, told The Associated Press.
"This is definitely going to be an effective nontoxic weapon because its pungent smell can choke terrorists and force them out of their hide-outs," R. B. Srivastava, the director of the Life Sciences Department at the New Delhi headquarters of the DRDO said.
Srivastava, who led a defense research laboratory in Assam, said trials are also on to produce bhut jolokia-based aerosol sprays to be used by women against attackers and for the police to control and disperse mobs.
They have created an 81-mm grenade packed with red hot chilli, pepper and phosphorus to use in Kashmir where Islamic separatists linked with al Qaeda are fighting a long-running insurgency war.
Their enemy is often unseen, and can easily disappear in civilian crowds. India's curry bomb however will help its soldiers to immobilise enemy fighters, and allow them to be captured, without long-term injury.
The mix of spices and phosphorous chokes the enemy's respiratory tract, leaving targets barely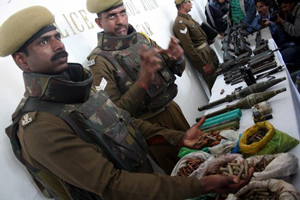 able to breathe for a time. Their eyes, throat and skin burn and sting.
Army scientists have also discovered the "curry bomb" can be used to block enemy attacks by creating a smoke screen and preventing snipers from using night-vision devices and thermal imagers.
From being fired by a grenade launcher, it creates an effective smoke screen ninety meters away within five seconds.
The curry bomb will be used both as a hand grenade by police and armed forces, and as a tank-mounted device.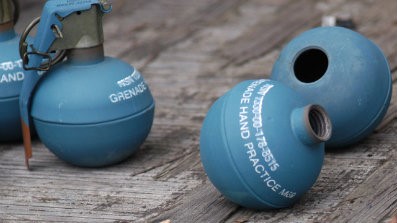 Experts from India's Defense Research and Development Organization have already tested their new "grenade masala" in a series of "spice raids" close to the Line of Control which separates Indian and Pakistani forces in the disputed Jammu and Kashmir region.
"The field trials have been completed with success in several areas along the Line of Control. The grenades would be successful in forcing out militants from their hideouts."
India's weapons development establishment has developed a good reputation for innovation. They have developed a nuclear missile capability, and have become leaders in rocket and satellite launch technology.
It may be some time before western governments develop an appetite for the curry bomb.
---
Researchers in India have also come up with some other ingenious uses for the chili.
The scientist said: "There are other applications as well, what we call women power. A specially made chili powder could act as a tool for women to keep away anti-socials and work in this regard is also on."
The department has come up with another plan to rub the chili powder on the fences around army barracks. And Mr Srivastava said: "The chili paste could also act as a major repellent against wild elephants."